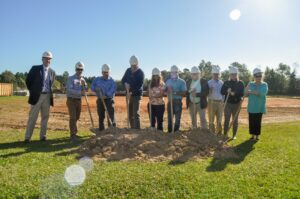 Big news!!
We are excited to announce the start of construction of our new state-of-the-art facility "Almost Home" in Aiken, South Carolina. The Almost Home facility will offer a sanctuary for dogs too ill to make the journey to their forever homes, which are mostly in northern states. By vetting and caring for the dogs until they are well enough to travel, we will be able to rescue more dogs that would otherwise be left behind. In addition, Almost Home will enable us to build stronger partnerships with local animal control facilities to ensure that it becomes the 'go-to' location for dogs in crisis. In addition it will offer low-cost spay and neuter services to the public.
Yesterday we had a groundbreaking ceremony at the site of Almost Home in Aiken. Before the ceremony, our founders and board members scattered the ashes of cremated dogs that we were unable to save in the past on the Almost Home site. "This building will be kind of like the phoenix bird that rises from the ashes," Bernie Cicirelli, one of our board members said. "It will represent a new future for the new dogs coming through here, and hopefully we'll be able to save more of them."
To date Home for Good has saved and adopted out over 9,000 dogs. The new facility will enable many more dogs to be saved in South Carolina and Georgia and equip the Rescue with the resources to sustain and enhance our life saving mission.
We will keep you updated on the progress of the Almost Home site.