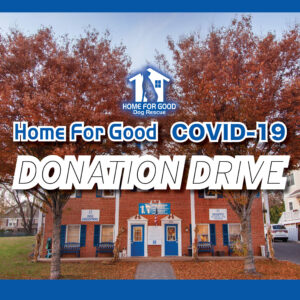 Due to COVID-19 we are in need of certain items for the Rescue, both in New Jersey and at our property in Aiken, South Carolina.
The Items we are requesting be donated are:
– Paper Towels
– Clorox
– Bleach
– Simple Green Cleaning Solution
– Garbage Bags
– Liquid Laundry Detergent
– Tarps
– Towels
– Newspaper
If you are able to spare any of these items please donate them to Home for Good Dog Rescue. Donations can be dropped off at our Retail Shoppe Monday – Friday. 10am – 6pm. 465 Springfield Avenue, Berkeley Heights, NJ.
Thank you so much to all of our supporters in these uncertain times. Take care and stay safe.