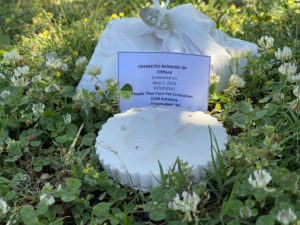 Recently we rescued a dog named Clifford who turned out to have a severe case of heartworm disease. He was bloated due to the disease and in pain. Unfortunately his case was too far gone and he was not able to be saved. But heartworm disease is preventable, and with your help we can save many heartworm positive dogs this year.
The number of dogs we rescue that are heartworm positive is at a crisis level. Heartworm is a preventable and treatable disease if caught in time. Immediate medical intervention comes at an average cost of $360 per dog. In the past year, we have treated over 50 dogs with this potentially fatal disease.
We remain dedicated during this time to offer the same level of service and medical care that we have always provided for the dogs we have rescued from life-threatening situations. Currently, we are striving to maintain our level of commitment without the financial support from fundraising events that were cancelled this year.
Our goal of $18,000 will enable Home for Good Dog Rescue to offer this life-saving treatment for one full year.
Won't you please give these dogs a second chance by making a donation in memory of Clifford to our heartworm treatment initiative? Our dogs and all who care for them are counting on you.
To Donate to this cause please visit our Facebook fundraiser page.