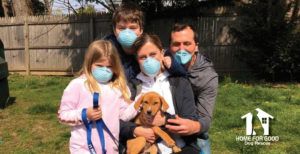 During this time of COVID-19 Home for Good Dog Rescue has experienced a significant increase in foster and adoption applications. Please note that it is not our policy to "foster to adopt". We are still processing adoption applications; however, applicants might experience longer wait times on their application processing due to the large number of applications we have received. Other rescues are also experiencing the same increase. We appreciate your patience and understanding.
Due to the surge in demand at this time, we have a temporary shortage of dogs. However, we do add new dogs to our website on a daily basis. Please do check our website regularly to view our new additions. We are doing our best to accommodate everyone, and we are working diligently to respond to all adoption applications and meet and greet requests. Please bear with us as there may be longer than usual response times to emails and requests.
We are continuing our adoptions but have made adjustments to our procedures for the safety of everyone involved. All of our meet and greets will take place outside of our facility in Berkeley Heights, New Jersey. All potential adopters must wear a mask or face coverings. Only one person from each family will be admitted inside our facility to complete the adoption paperwork. We require all adopters to sit six feet apart from the volunteer processing the paperwork.
Our hope is that your family is safe and healthy during this time. We look forward to helping you find a new four-legged family member soon.