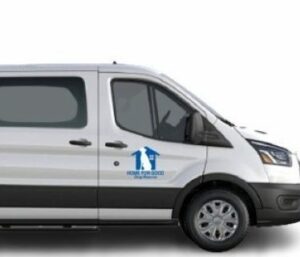 Home for Good Dog Rescue's transport program is the cornerstone of our mission. We rescue and relocate dogs living in conditions of squalor and under the threat of neglect and abuse. We transport these dogs to New Jersey, and find them loving "homes for good."
Each van transport can currently accommodate approximately 30 dogs, and in 2020, along with volunteer pilot flights, we successfully transported over 1,000 dogs to New Jersey through 27 van transports and several flight charters. The need, however, is ongoing and ever-increasing. This year, we are determined to exceed our 2020 transport capacity. The backroads of rural Georgia and South Carolina have taken their toll on our current van and its useful life is drawing to an end. It is no longer sufficiently safe to transport our precious dogs on their trek north.
Our goal is to raise $42,000 for a new transit van, which will enable us to nearly DOUBLE our capacity to transport more dogs each year! While the monetary goal is significant, the prospect of offering hope for a better life for our furry friends is priceless. Upon raising half of the funds needed, one of our generous benefactors has offered to donate the other half, enabling us to purchase the van.
DONATE TO THE TRANSPORT VAN FUNDRAISER
With your sponsorship gift of $5,000+, you will receive the opportunity to put your personal or corporate name on the van, including a tribute message.