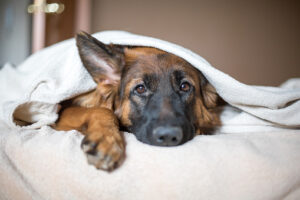 I knew that once I entered the building and got the scent of newly washed dog that my nerves would settle down. As someone who has a rough time with first impressions, the knowledge that dogs would be around pretty much all of the time made the first day rather comfortable. Plus, it's pretty hard to be nervous while puppies are nibbling on your fingers. Seriously, you try being on edge while a black lab puppy is desperately trying to lick you through a crate. Feelings of discomfort are replaced by the sensation of drool quickly enveloping your hand. The moment I walked into the grooming room I couldn't keep from smiling. The energy that those dogs release is just too infectious to ward off, even for a "grump" like myself.
My name is Bill Foley, and I am going to be spending my summer interning with Home For Good Dog Rescue. I'm a college student studying media communication, so I'll be assisting the Public Relations and Social Media Coordinator, who you know as Matt. On that first transport day, I must have taken over 60 pictures. Around half of them are blurry because puppies are unhinged, fluffy balls of happiness. I even got to hold one as she was being cleaned. The task handed to me was holding a puppy while it was being blow-dried. Her name was Maddie.
She seemed pretty nervous too. That sure would explain the ceaseless squirming. It's all right Maddie; I'd also be nervous if an incomprehensible blast of warm air was engulfing me. While the scary hot air monster was drying her off, she backed herself into me. Now, Maddie probably did this in an attempt to get as far away from the blow drier as possible. But I preferred to interpret this as her coming to me for comfort or safety. Little did she know that I was secretly aiding the blow drier by holding her in place! At any rate, Maddie reminded me of something that day: the absolute bliss that dogs bring to my life. Dogs don't take into account your faults, insecurities, or general awkwardness. They love unconditionally.
That was the reason my family and I got a dog in the first place. I was 10-years-old when we brought Mickey home from a kill shelter in Newark. My mother, brother, and myself found him on PetFinder. He had been tied up and abandoned by his previous owner. He was six-months-old when we took him into our family. We initially got Mickey because he was mild-mannered and had a really distinctive pattern on his face. I wanted to name him Harvey, after Harvey Dent (a.k.a Two-Face) in the Batman comics. His face was divided right down the middle, with the right half being black and the left half being brown. Suffice it to say that he was not quite the mild-mannered dog we thought.
In a matter of months, our curtains were shredded, our carpet was soiled, our window was shattered, our couch was chewed, our yard looked like a scene out of Holes, and our hearts had been stolen. We were in love. Mickey was my first dog and my best friend. He died of kidney failure in May of this year.
Mickey hadn't been feeling himself for quite some time. My family and I knew this was coming, but it still felt so sudden. I tell myself that it's for the best, that he was suffering and died peacefully amongst people who loved him deeply. It didn't make it hurt any less. Life goes back to normal, minus one life. I can still hear the pitter patter of Mickey's paws against the wood floor in the kitchen. When my family and I had dinner, he used to sneak in while everyone was laughing so we couldn't hear him. I thought about Mickey while I held Maddie.
The pain of losing a friend is enough to shy away from making a new one. But I can't imagine my life without the love that a dog brings. I need the wagging tail, I need the doggy kisses, and I even need the stained carpet. Maddie helped me see that. I may not be ready for a new forever friend just yet, but I am more than ready to do whatever I can to help provide good homes for these dogs at Home for Good. They deserve to be happy. And hey, who knows? Perhaps I'll adopt my own pooch from Home for Good Dog Rescue some day.
The people here put every ounce of passion into giving forever friends a loving family. I think I can say with confidence that this is going to be a rewarding ride. The first day was quite the cathartic experience. I saw dogs that will make people as happy as Mickey made me. And I couldn't have asked for a better start.
Thank you for welcoming me onboard, and stay tuned throughout the summer as I give you more inside looks at what goes on here at Home for Good Dog Rescue!