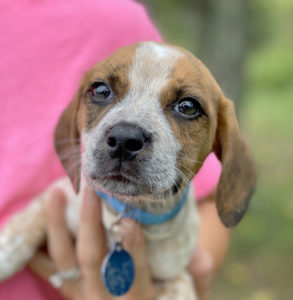 Update: Thank you to everyone that donated towards Bonnie's fundraiser and helped us reach our goal to cover the costs of the surgery! Bonnie is recovering well in her foster home and wishes to thank you all!
——————–
Bonnie desperately needs your help with her lifesaving surgery costs. Please help with however much you can to save Bonnie.
Bonnie's Story.
Bonnie and her brother, Clyde, were offered for free by a couple in a Wal-Mart parking lot, to Shari Watt, a fellow animal rescue partner from the Emanuel County Humane Society in Swainsboro, Georgia. The couple insisted they didn't know the mother was in heat, and soon after, six puppies were born. Three were given away and the couple insisted on keeping one. As spay and neuter procedures are rare in this type of situation, the couple keeping a female puppy and the mom was disheartening. However, the two remaining puppies, Bonnie and Clyde, will be safe with Home for Good, thanks to Ms. Watt.

Like so many before, these puppies needed to be medically evaluated, spayed and neutered, and found new loving homes. The responsibility is tremendous when taking home a new puppy, and our rescue staff and volunteers are committed to seeing that process through for each and every one of our rescued pups. However, with Bonnie, things just aren't that simple. Bonnie has a congenital disorder that Clyde, doesn't carry. An aortic vascular condition called Persistent Right Aortic Arch.
Bonnie is currently in Garden State Veterinary Specialists, fighting for her life. Her condition restricts the passage of food through her esophagus, and so she is not getting any food into her belly and is close to starving to death. She is on a gastric feeding tube and will soon have had a life-saving surgery to widen her esophagus. Aligning with the mission of our rescue, we will not give up on Bonnie and ensure that her life will be full of love, family, and play.
The surgery cost is $12,500 but an anonymous donor has already covered over half of the amount, so we are asking for help with the remaining $6000 to save Bonnie.