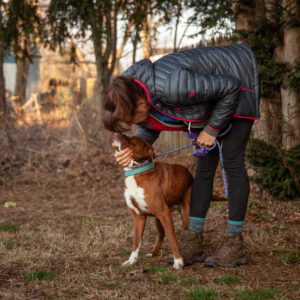 Dog owners face the unique responsibility of maintaining their dogs' health and safety while adhering to increasing recommendations towards social distancing, self-monitoring, and even quarantines. To help educate on how to care for dogs during the coronavirus pandemic, here is some basic information that can help decipher dog owner questions during these trying times.
Please follow your local government's advice for up to date information on going outside.
Can I Walk My Dog?
Physical and mental exercise is extremely important for dogs and dog owners alike. As long as the area in which they reside remains safe enough to venture outside, dog owners feeling healthy and well should plan to continue walking their dogs daily, albeit with added safety measures. Observe any local ordinances concerning curfews, even if that means adjusting your dog walking schedule.
Owners should wash their hands thoroughly for at least 20 seconds before and after each walk. Consider carrying around a pocket-sized bottle of hand sanitizer during your walks. Practice social distancing measures by walking your dog in uncrowded areas when possible. If you live in a big city, make efforts to take your dog down less-heavily-trafficked blocks, or try adjusting walks to less busy times of day and night.
Can I Go To The Dog Park?
If you normally take your dog to a crowded dog park or dog run, consider taking a hiatus from such locations. If your dog truly depends on time at the park to maintain their sanity and your own, make efforts to visit the park during off-peak hours, when there is less likely to be a large crowd of people there. Finally, be wary of physical contact with other, unknown dogs during this time. While dogs can't catch the virus, you never know how many humans may have been in contact with that dog, or how healthy they may or may not be.
Can I Play With My Dog Outside?
For owners fortunate enough to have fenced-in yards, outdoor play is acceptable and encouraged. Again, however, hygiene and cleanliness are more important than ever during a pandemic. So, wash hands before and after outdoor play, and wipe your pet's paws down before they come back inside.
Keeping Your Dog Active Indoors
While outdoor exercise is still possible for some dog owners during the pandemic, it's not necessarily an option for all, such as those being asked to shelter in place. Thankfully, there are plenty of ways to exercise and entertain your dog indoors, including indoor scent games and dog sport training, as suggested by the American Kennel Club.
The bottom line is that dog owners have a responsibility to be educated, aware, safe, and responsible with their dogs during the ongoing coronavirus pandemic. Life in America has been upended in many ways, and dog ownership is no exception. However, with the right knowledge and precautions taken, dog owners can help guide their pets through this pandemic in a socially responsible way.