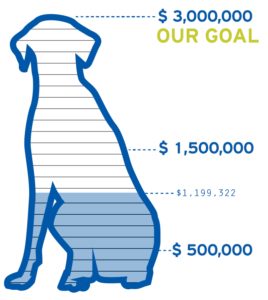 Join an incredible journey… By contributing to the Almost Home Capital Campaign, you will help build a wellness center for dogs that are in dire need of medical care and attention as they embark on their forever homes.
In 2014, an anonymous benefactor purchased 10-acres of land in Aiken, SC. Today, this property hosts a full staff of attendants and technicians in addition to a newly renovated kennel.
Under our southern staff's watchful eye, every animal is altered, vaccinated, microchipped and provided any specific care their unique circumstances require, and already, we are fortunate to be able to rescue dogs of every age and size, from newborn mothers and puppies to senior dogs seeking a second chance. Currently, however, we can only comfortably care for about 50 animals while so many more are left behind.
The construction of this state-of-the-art wellness center will thus allow us to double or even triple the number of lives we save.
Almost Home will be built in Aiken, South Carolina and rehabilitate dogs saved from high-kill shelters that are initially too ill or too young to travel. At Almost Home, they will receive life-saving medical care and time to recuperate until they can continue on the journey to their home for good.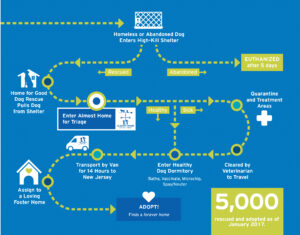 Please help us reach our $2.5 million dollar goal to build the Almost Home Capital Campaign. With the support of people like you, together we can save more innocent dogs that would otherwise be left behind. Throughout the Almost Home wellness center, we offer a variety of naming opportunities, as well as other benefits. Help make a tangible impact by visiting the Almost Home Capital Campaign page and learning how you can invest in this amazing project, today.

For questions about the Almost Home Capital Campaign, please contact Jill A. Pall, Director of Development, Marketing & Communications at 908.263.7358 or jpall@hfgdr.org.