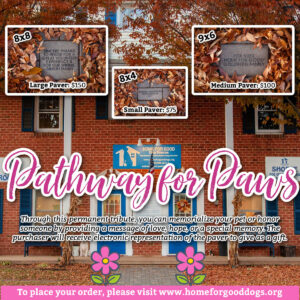 Spring has sprung and our "Pathway for Paws" will soon be blossoming with new memories and inspirations.
Please consider purchasing a paver with a memorial or message to be laid on our permanent walkway of hope.
Loving a pet is a cherished gift. Losing your pet can be heartbreaking.
We at Home for Good Dog Rescue would like to help honor your treasured memories.
HFG offers a unique opportunity through paver personalization on our
"Pathway for Paws"
. This permanent tribute will be available for you to visit at HFG headquarters, a place where life is cherished. Please consider purchasing a paver to memorialize your pet, honor a loved one, or simply share a message of hope. A digital depiction of your paver can be shared on your personal social media accounts, where you can celebrate your beloved pup, or tribute to that special someone, with friends and family.
The proceeds from your purchase will ensure we can continue our mission to leave no dog behind.