Each month we feature a new foster parent.
This month we would like to highlight the work of one of our foster families. Kristine Duetsch has been fostering dogs for us at Home for Good Dog Rescue for 2 years, and in that time has looked after a whopping 455 dogs!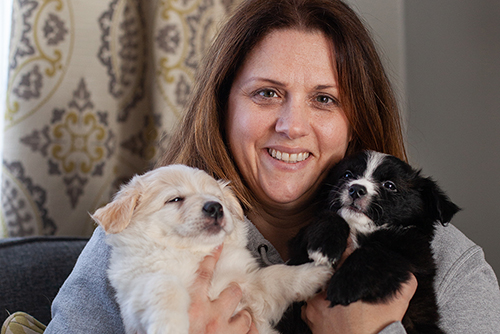 Do you enjoy fostering dogs for HFGDR?
I absolutely do enjoy it. It gets very hectic without a doubt, having 2 kids and 2 dogs of my own. I typically foster a pregnant mom. I started out fostering dogs, at first Home for Good started me with 1 dog. Then I asked for 3 or 4 and it grew from there. Now I look after puppies and pregnant mommies.
Is there a dog you have fostered that sticks out in your mind?
We have had dogs come back from the brink of death. We had a dog named Linus, he was virtually unadaptable, he didn't like men, he was nervous, completely shy and would have his face in the corner. Slowly over time he got better. The kids really helped. Dogs tend to lean towards them, because they talk to them in a baby voice, and over time he began to sleep with us in bed, he stopped his nervous peeing. He became a part of our family. We took him to adoption event and then one day he was adopted to a great family. They spoil him. But I couldn't say goodbye to him, I got a lump in my throat, I started sopping and left. There are some dogs that really stick out in my mind. But if I adopt every dog that I have a connection with I wouldn't be able to save as many lives as I do, because fostering these needed dogs is absolutely saving lives.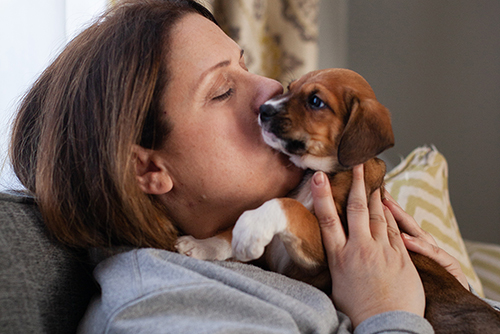 At first it can be tough because the dogs do become a part of your family, they are the first things I see when I wake up in the morning. And they are the last things I see when I go to bed. As long as you keep in mind that you can save more lives by fostering than you can by adopting. I have a 6-year-old and a 9-year-old, and they have the same philosophy also. For every dog of ours that gets adopted we really get 5 back!
What did your children think when you told them you were going to start fostering dogs?
They were really excited. When we started fostering puppies my eldest daughter came home from school, walked in the door and was quite surprised to see 8 puppies, she started crying and sobbing. She was saying "I love you, I love all of you" and she just sobbed. They understand births, as we have had a lot of birth in our home and we have also had several deaths. Everything is a learning opportunity. Morgan the vet tech comes over and explains to the kids that this dog died because he was sick and is now in doggy heaven where he is not in pain anymore. They see the circle of life, that's for sure. They see the babies being born.
How long do you keep each foster dog on average?
8 weeks if they are born in my home. I could have a dog for a day, or I could have a dog for 2 months. It absolutely depends on what the needs are.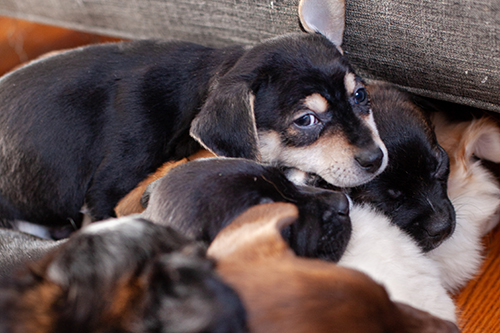 Do you have any advice for potential foster families?
I would absolutely without a doubt recommend fostering. It is more fulfilling than you could ever imagine. It is something that brings me complete joy. Try it, and if it's not for you at least you tried, and you helped that 1 dog that didn't necessarily have a chance. It's not for everybody, but it is for most.
If you would like to join our team of life-saving foster parents, please fill out an application.