Each month we feature a new foster parent. This month, we interviewed the Salamone family about their experience with fostering dogs through HFG. Residents of Madison, they have been fostering dogs since November of 2015! Here they are with their pup, HFG alum Clancy, who loves meeting all his new foster siblings!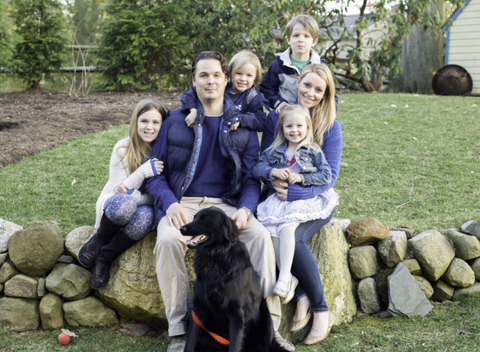 Why do you foster?
When we lost our 15-year-old Lab, we thought we needed a break before getting new dog. However, we found Clancy on the Home for Good Dogs website and fell in love! We started following HGD on Facebook and saw all of the dogs that were given a chance at life and knew we wanted to be part of that!
How many puppies/dogs have you fostered?
Since November, we have fostered 11 dogs.
How has it changed your life?
Fostering dogs makes everyone in the house happy. We love seeing the dogs come into our home and receive so much love. My kids love having a new playmate and learning about each dog, and Clancy loves having a playmate!
Do your children enjoy the experience?
We love the experience! It is never easy to say goodbye to them, but seeing them go to the perfect family makes it all worth it.
Would you recommend being a foster to friends and family?
I highly recommend becoming a foster to friends and family. It is amazing to know that you are making a difference in these dogs' lives. My kids are learning that everyone can make a difference and that there is a role for everyone to play in helping others! Our small role in all of this is an important one, and I am so happy that they get to see that!
If you would like to join our team of life-saving foster parents, please fill out an application.