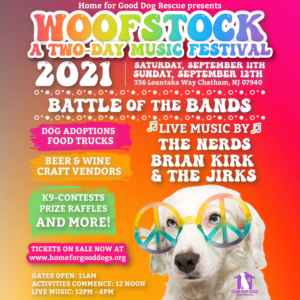 Saturday, September 11th
Featuring Live Music by
The Nerds
—
Sunday, September 12th
Featuring Live Music by
Brian Kirk & The Jirks
Join us on Saturday & Sunday, September 11th – 12th at our Home for Good Dog Rescue summer music festival event – WoofStock! This is Home for Good's largest adoption day of the year and is great fun for the whole family. This event is pet-friendly, so be sure to bring your HFG alum to visit!
We will be having live music from the amazing bands The Nerds on Saturday 11th and Brian Kirk & The Jirks on Sunday 12th as well as food trucks, craft vendors, beer and wine, K-9 contests, prize raffles, and of course dog adoptions!
This event is a great place to bring your HFG rescue pup to for a reunion with other HFG rescue dogs as well as meet the fosters who take care of so many of our dogs.
We would love for you to be part of this fun event at Brook Valley Farm in Chatham, New Jersey.
Avoid the lines at Brook Valley Farm by pre-registering today for WoofStock 2021!
Registration is $30 per adult and $12 for children (12 and under) for entry on single days. And $50 per adult and $20 for children (12 and under) for both days. Every dollar raised helps save more pups in need of a loving, permanent home! Entrance fees are non-refundable.
Entrance will include an HFGDR Swag Bag with lots of goodies for you and your dogs while supplies last!
**AS OF 6 PM ON SEPTEMBER 9TH, PRE-REGISTRATION IS CLOSED**
ONE DAY REGISTRATION IS AVAILABLE FOR PURCHASE AT THE GATE
One Day Pass: $35 for adults, $12 for children (12 and under)
Pre-registration tickets will be available until 4pm on Wednesday, September 8th.
After that time, tickets will only be available for purchase at the event gates. Prices at the gate per day will be Adults: $35, Children: $12 for ages 12 and under. Purchase your pre-registrations tickets online today!
This event will be in full compliance with all COVID-19 regulations. The entire area is outside and open. Hand sanitizer will be available throughout the venue.
If the event is canceled due to COVID-19 state regulations a full refund will be issued for all pre-registration tickets.
Home for Good Dog Rescue has saved over 9,500 dogs in 10 years thanks to the generous support of our donors. Your donation to this event ensures we can save even more dogs from high-kill shelters, hoarding situations, and abusive conditions, such as overbreeding and puppy mills. We socialize, care for, and provide rescued dogs with life-saving medical care at our Wellness Center in Aiken, South Carolina, transport them to New Jersey, and nurture them in our network of foster families while they await adoption into loving homes – giving them a second chance at life.
Opportunities to sponsor this great event and help save the lives of deserving dogs here.
Interested in becoming a craft or food vendor? Please click here.